Christopher J. Ewart, MD ("Dr. E")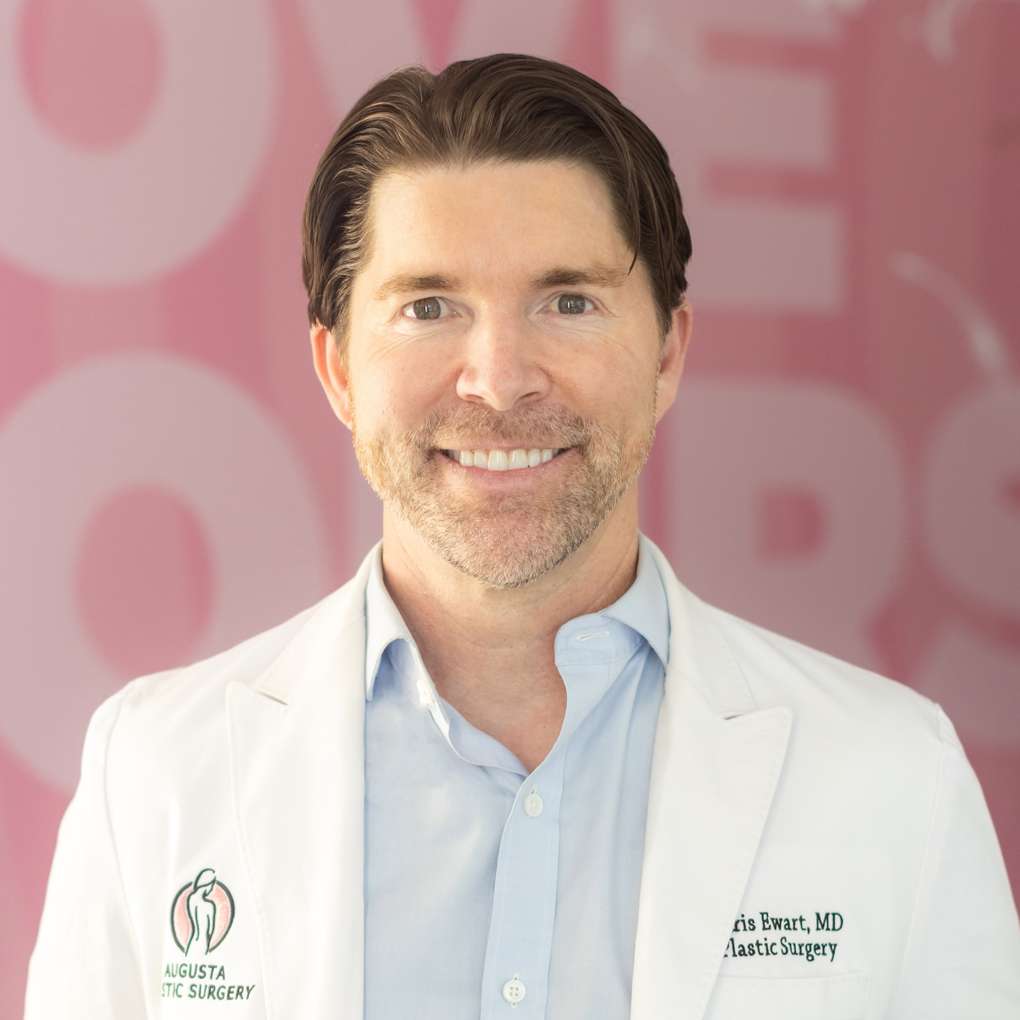 Christopher J. Ewart, MD ("Dr. E")
"Having others trust their body into my hands is not something I take lightly. I want to return that gift by providing the absolute best results I can possibly achieve."
An Artist's Eyes. A Surgeon's Hands.
Originally from Columbia, SC, Dr. Ewart pursued his education in the the midwest before returning back to the South and finally landing in Augusta, GA.
He operates 5 days out of every week and has performed thousands of cosmetic procedures over the past 18 years in private practice. He is skilled at every aspect of plastic surgery but is most often known for breast augmentation as he is one of the few in the country to perform a customized medial dual plane augmentation using an internal bra technique which yields superior cleavage and breast shape.
After completing general surgery training at the Medical College of Georgia, Dr. E elected to pursue his passion and completed an additional residency to become Board Certified in Plastic Surgery "I have always been involved in creative endeavors such as film making, graphic design and playing the guitar, yet I also love science and anatomy," he says. "Plastic surgery lets me combine the two in a way that makes a meaningful difference in peoples' lives."
An active listener, Dr. E understands the role communication plays in medicine. He makes sure that he and the patient are in complete accord before surgery, and then customizes care for each person. "This is important in all specialties, but it's especially important in plastic surgery," he says.
Known as a perfectionist in the operating suite, he takes the time to make sure every detail is just right on each surgery he performs. "I feel a deep sense of responsibility for my patients, so I strive to deliver the best possible care," he says. His desire for improved patient outcomes and satisfaction, led him to introduce 3D imaging and pain reducing techniques to the Augusta area.
Early in his career he worked with Christ Community Center caring for indigent patients and more recently has raised money for various charitable organizations throughout the local area. Since 2017 he has supported SafeHomes of Augusta in their pursuit to provide support for those affected by domestic violence. After winning the Fake It To Make It lip sync competition in 2017, he has continued to provide support throughout the year and during this yearly event. In 2020, he supported the Alzheimer's Association pursuit to end this extremely common disease by participating in Dancing Stars of Augusta. In 2022, he personally raised over $60,000 for SafeHomes of Augusta while winning an All Star version of Fake It To Make It.
He was honored to be chosen and featured by the local ABC station show, the Dish, as a community champion several years ago. Featured Plastic Surgeon in New Beauty magazine since 2018, Columbia County Magazine Trendsetter 2019, and Best Plastic Surgeon in the Area awards for the past 14 years.
In his free time, Dr. Ewart's time is ideally spent traveling with his wife Angela to either see their college age kids or off to somewhere warm. Otherwise, active pursuits such as mountain biking, exercising  and golf or more creative pursuits such as video creation, marketing, and guitar take up his time.
Member of American Society of Plastic Surgeons
Member of American Society of Aesthetic Plastic Surgery
Board Certified Plastic Surgeon by The American Board of Plastic Surgery

Plastic Surgery, Medical College of Georgia, Augusta, GA
General Surgery, Medical College of Georgia, Augusta, GA
General Surgery, Medical College of Georgia, Augusta, GA

University of Notre Dame, South Bend, IN
University of South Carolina School of Medicine, Columbia, SC